If you look at a map, Pelion Greece looks like a reverse hook poking into the sea and then bending back towards the mainland at its southernmost part. It is located halfway between Athens and Thessaloniki and separates the serene Pagasetic Gulf from the open Aegean Sea.
Pelion is one of Greece's best-kept secrets. Home to the legendary wise creatures called Centaurs (half-man, half-horse) and summer residence of the Gods according to Greek mythology, the Pelion peninsula (in the southeastern part of the Thessaly region in Central Greece) is a true hidden gem where the word "authentic" meets its true meaning.
Mount Pelion has managed to keep itself away from large-scale tourism and its consequences. It offers unparalleled natural beauty, a rich local culture preserved for ages, and some of the best food in the country that becomes increasingly known on the global culinary map as more and more people succumb to its charms.
What is Pelion Greece known for?
Although the name originally referred to the backbone ridge of forested peaks occupying the area's central part, over the years, it has defined the entire Pelion peninsula, with its highlands, lowlands, and coast on both sides. So, today, when people talk about Mt Pelion, they point to the stretch of land expanding from Lake Karla in the north to Trikeri Island in the south.
Pelion Greece is an all-year-round destination that has it all. After departing from the port city of Volos, the gateway to the beautiful region of the Pelion peninsula, visitors will lay their eyes on sleepy seaside hamlets, traditional cliff-hanger villages with narrow streets and centuries-old stone mansions, shady central squares with small cafés and rustic tavernas, green hills that reach all the way down to secluded bays, beachside restaurants that serve some of the most delicious seafood you've ever tried, and stunning beaches that easily compete for the top spots in the Mediterranean.
Is Pelion Greece worth visiting?
Someone might reasonably wonder: "If the Pelion peninsula is such a beautiful corner of Greece, why haven't more people discovered it so far?".
That's because Pelion does not correspond to the stereotypical image of the Greek islands that most people have in mind when they think of Greece. You won't find whitewashed houses atop barren cliffs, churches with blue domes, and dramatic calderas here.
The Pelion peninsula is a symphony of nature for the seasoned and mindful traveler. It ticks all the boxes for people who want to get off-grid for a while and experience an authentic side of Greece that is not easily found in other popular destinations.
Here, you will blend in with local life and rejoice in the valuable combination of natural beauty, picturesque villages, a rich cultural tradition, scenic mountain slopes with incredible views, traditional Greek food, and an unspoiled coastline dotted with gorgeous beaches.
Pelion Greece will make you discover a rested and restored new you, whether for a few days or more extended periods.
How to get to Pelion Greece
Getting to Pelion Greece by air
The closest airport to the Pelion peninsula is Nea Anghialos, some 20km south of the city of Volos. It operates from April to October, serving mainly charter flights and some European carriers who come to Central Greece in the summer.
If Nea Aghialos is unsuitable for your plans, you can fly to Athens or Thessaloniki. They are 320km (a 3.5-hour drive) and 220km (a ride of 2.5 hours) away, respectively.
Reaching Pelion Greece by car
Getting to Pelion by car is easy, as the road network from either Athens or Thessaloniki is modern and comfortable. Car hire kiosks are readily available at arrivals. Fuel prices are a bit up at the moment due to the energy crisis. Still, they remain affordable compared to other countries, and you'll have the luxury of stopping whenever you feel like it to take short breaks and admire incredible views.
The bus alternative to Pelion Greece
Driving is not meant for everyone. However, this shouldn't be something to worry about as an extensive network of public bus lines (KTEL) serves the city of Volos from Athens and Thessaloniki. Buses are modern and air-conditioned, they regularly leave throughout the day, and most have free Wi-Fi onboard.
However, remember that the lines coming from Athens and Thessaloniki will drop you off at the Volos bus station. From there, you will have to take a separate bus to reach the village of your choice in Pelion. You can browse the site of Volos KTEL to see itineraries and book your tickets.
Discovering the wonders of Pelion Greece
The 24 Pelion villages are the gems on the peninsula's crown. They are standalone art pieces. Wherever you turn your gaze upon arrival, natural beauty reigns supreme. Traditional houses and mansions, narrow cobblestone streets, beautiful churches and chapels made of stone, and central squares with age-old plane trees and fountains, it's all there for you to take in.
Central Pelion Greece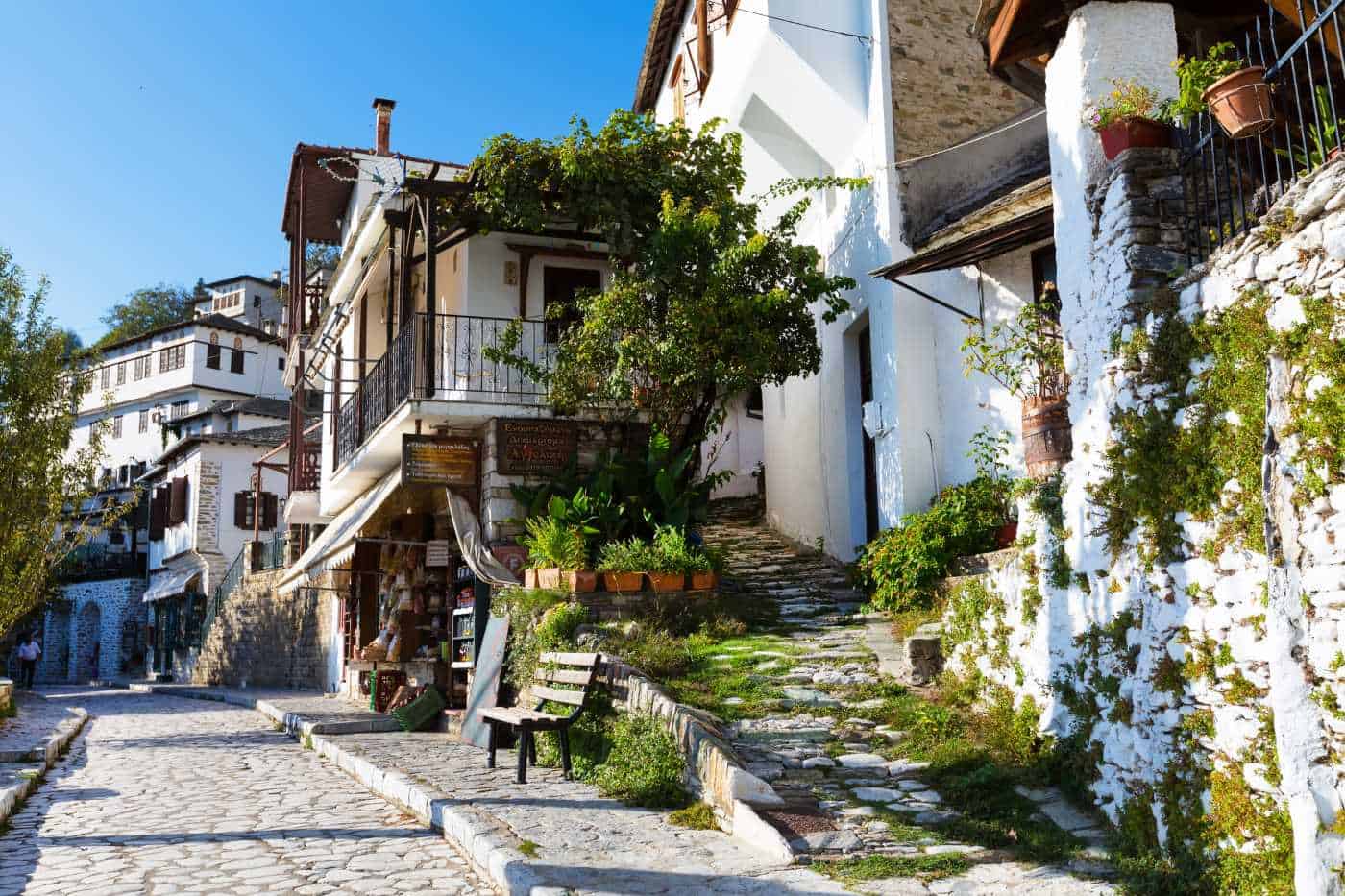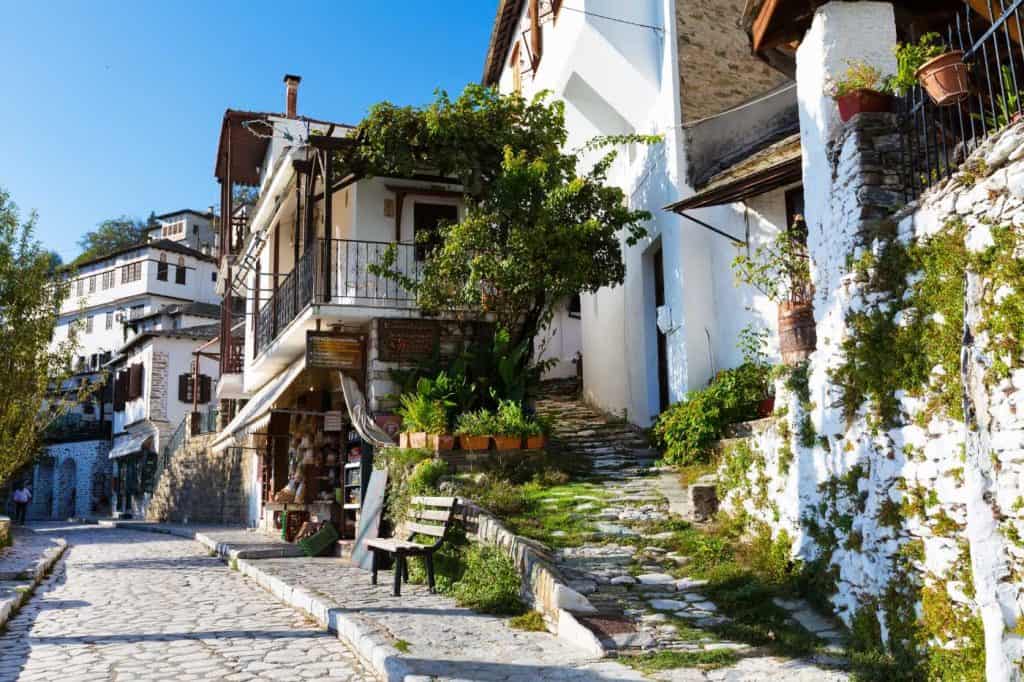 The part of the Pelion peninsula that we call Central Pelion starts at the gateway city of Volos, the capital of Magnesia.
Volos is a vibrant modern city featuring the 4th biggest port in Greece, a large university with a very active student community, and some of the country's finest tsipouro (a strong spirit made of grapes' pomace) restaurants with delicious seafood. It is worth spending a few days in Volos town to experience its unique vibe, landmarks, and cuisine.
Central Pelion Greece is essentially the western slopes of Mount Pelion, facing the Pagasetic Gulf. It has a mountainous side with chestnut, oak and beech forests, and lower altitudes along the seaside with small traditional villages, olive groves, and beautiful beaches.
The mountainous side
The way to reach the "highlands" of Central Pelion is through the Volos-Zagora national road. A few kilometers up the winding road, you will get to two of the most famous and visited Pelion's mountain villages, Portaria and Makrinitsa.
Portaria is the hub of the two neighboring popular villages, as due to its location right on the national road, everyone going towards Eastern Pelion will drive by. It is very developed in terms of tourism infrastructure, as visitors here will find all kinds of traditional guesthouses, luxury hotels with spa facilities, and gastronomy outlets; the restaurant of Kritsa Gastronomy hotel right on the village square takes traditional food to the next level).
Makrinitsa lies 3km northwest of Portaria and is an homage to unpretentious graciousness. Well-preserved stone mansions have been transformed into upscale guesthouses, and cozy shops give way to a large central square with shady plane trees and an elaborate fountain. It's called "the Balcony of Pelion" since the square cafés and restaurants offer incredible views over the city of Volos.
Chania, located at the highest point of the Pelion peninsula and 12km away from Portaria, is a roadside settlement with many inns and restaurants. In the past, it was an intermediate transport station for mule caravans that carried goods and products between Volos and Pelion's mountain villages. After enjoying a fun day at the nearby Agriolefkes ski resort in the winter, you can head to Chania to savor finely cooked traditional Greek food.
The coastal side
Take the Volos-Argalasti coast road, and you're in for a route full of beautiful villages, olive groves going on forever at the lower elevations of the Pelion peninsula, sandy beaches, and picturesque small harbours.
The first place you come upon shortly after leaving Volos town is the lovely seaside town of Agria. Its picturesque seafront promenade is lined with docked fishing boats and restaurants that serve food, drinks, and – of course – tsipouro.
A bit further down, the road takes you to the twin villages of Kato Lechonia and Ano Lechonia. Before entering Kato Lechonia, you can turn left and go uphill to visit the beautiful mountain village of Agios Lavrentios (600m of altitude). Leave your vehicle at the municipal parking and walk the narrow cobbled streets of Agios Lavrentios that will take you on a journey back in time.
Ano Lechonia is the starting point of one of the most scenic train paths you can experience in your lifetime: the "Moutzouris" Train of Pelion. This vintage steam train sets off from the Ano Lechonia station and goes through 15km of narrow tracks to reach the village of Milies within 90 minutes. Along the way, it crosses stone bridges, gorges, and the forested hillside on this side of the Pelion peninsula. The views over the Pagasetic Gulf are unparalleled in its six cars.
The next stop on the Central Pelion itinerary is the large mountain village of Milies. After Ano Lechonia, you keep driving along the coast, and 9km down the road, you turn left at the sign showing Milies. The winding ride is a bit steep but worth every meter of it.
Milies is a settlement with a rich cultural heritage. You can visit its library with four thousand rare books, the beautiful church of Pamegisti Taxiarches (a three-aisled basilica), and the shady village square, where visitors can enjoy their food or drinks at the two tavernas under the giant plane trees.
Just off Milies, deep in the lush forest and surrounded by waterfalls, lies the cave of centaur Chiron. According to Greek mythology, wise Chiron was the leader of the centaurs and fully conversant with medicine's secrets.
On your way back to Ano Lechonia, you can take the mountain road that starts at Milies and passes through the villages of Vizitsa, Pinakates, and Agios Georgios Nilias. These traditional villages are known for their preserved architecture and are worth a visit for their stunning mansions and beautiful squares. In July and August, the villages of Pinakates and Agios Georgios Nilias become the stage for art festivals, music performances, and workshops.
Eastern Pelion Greece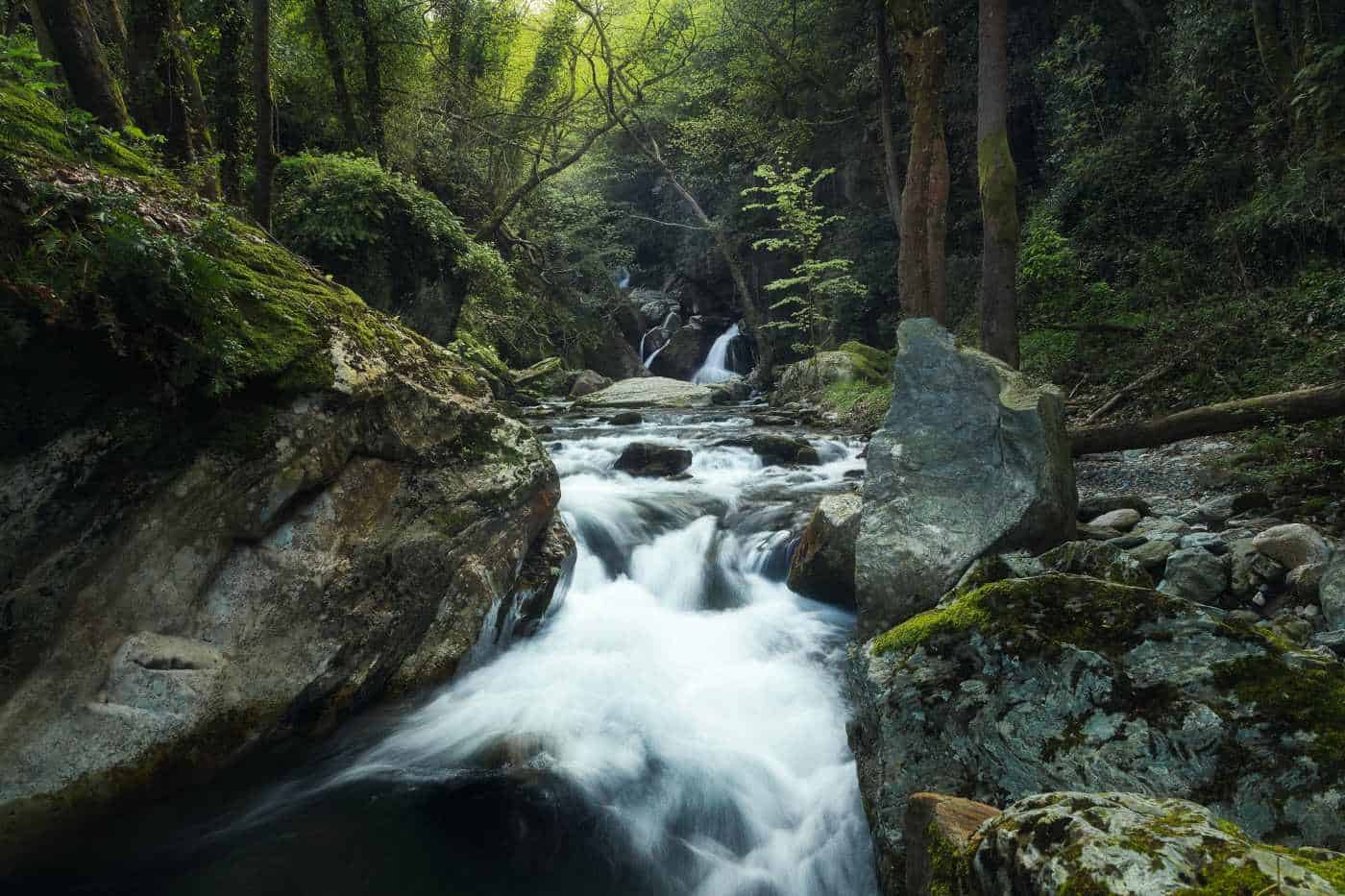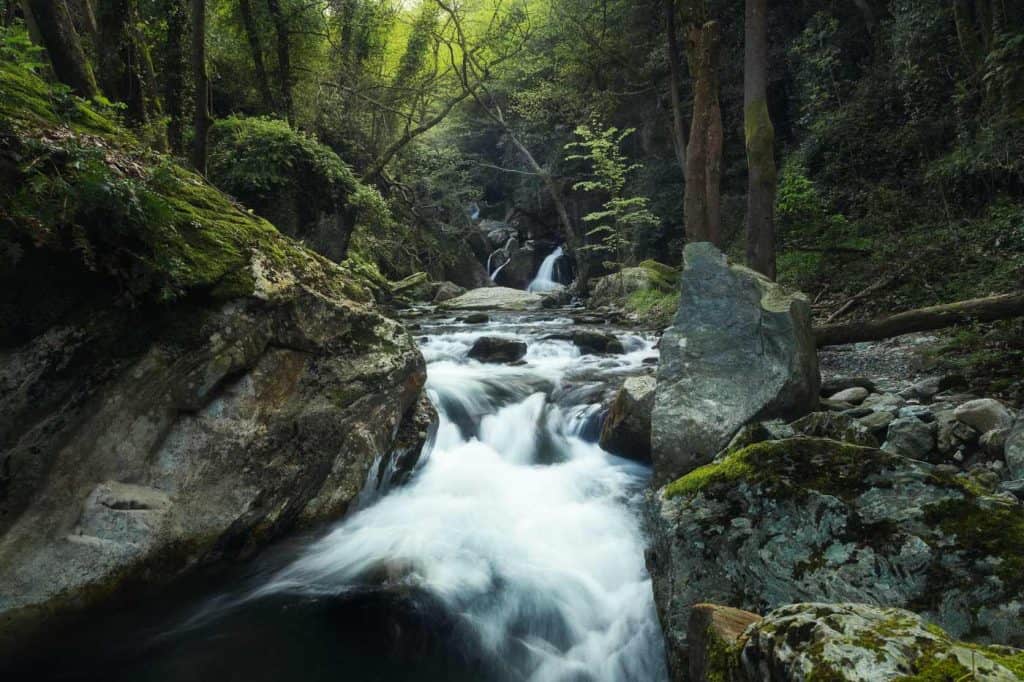 The eastern side of the Pelion peninsula is a token of what makes Pelion Greece, a place of untainted natural beauty. It's a place where beautiful mountain villages, skirted by beech and chestnut forests and fruit orchards, give way to a rugged coastline along the Aegean Sea, featuring some of the best beaches in Greece.
Tsagarada village is the most famous settlement on this side of Pelion Greece. It has many accommodation facilities, exciting nightlife, important landmarks, and many restaurants ranging from fine dining to traditional Greek food. Many visitors choose it as their base to explore the Pelion peninsula due to its privileged location.
Tsagarada consists of 4 districts built around their patron saints' church and central square (Agia Kyriaki, Agia Paraskevi, Agios Stefanos, and Agioi Taxiarches). At the square of Agia Paraskevi, you can visit a remarkable landmark: a huge plane tree with a 13m trunk perimeter, which is believed to be a thousand years old.
The area is famous for some of the best trekking in Pelion Greece, as many hiking trails start in Tsagarada village. One of the most known ones is the trail leading to Damouchari beach. The fishing hamlet of Damouchari rose to international prominence after segments of the Mamma Mia movie were filmed here.
Just 10km off Tsagarada, to the northeast, lies the picturesque village of Kissos. Kissos is a haven of rest and serenity amidst rich vegetation. In line with the usual Pelion peninsula style, it features paved streets, stone houses, and a central square with cafés and restaurants shaded by a large plane tree.
However, what makes Kissos stand apart is the impressive and nationally renowned church of Agia Marina. Agia Marina is a three-aisled basilica with a slate roof. It has an elaborate gilded, wood-carved iconostasis and imposing frescoes created by popular painter Giannis Pagonis. This church is so vital in cultural heritage that it has been declared a preserved historical monument.
The next stop up on the northeastern side is Zagora, the apple capital of the Pelion peninsula. It is the largest village of Pelion Greece population-wise, and the economic center of Eastern Pelion. It boasts charming neoclassical mansions, beautiful churches, and four different squares.
Yet, it is famous for the apples produced in the orchards around town. Zagora apples are a Protected Designation of Origin (PDO) product, considered some of the best in the world!
Zagora is also known for its sea outlet down the hill, Chorefto beach. Chorefto is one of the most gorgeous beaches of the Pelion peninsula, with a long sandy stretch and crystal clear blue waters.
Southern Pelion Greece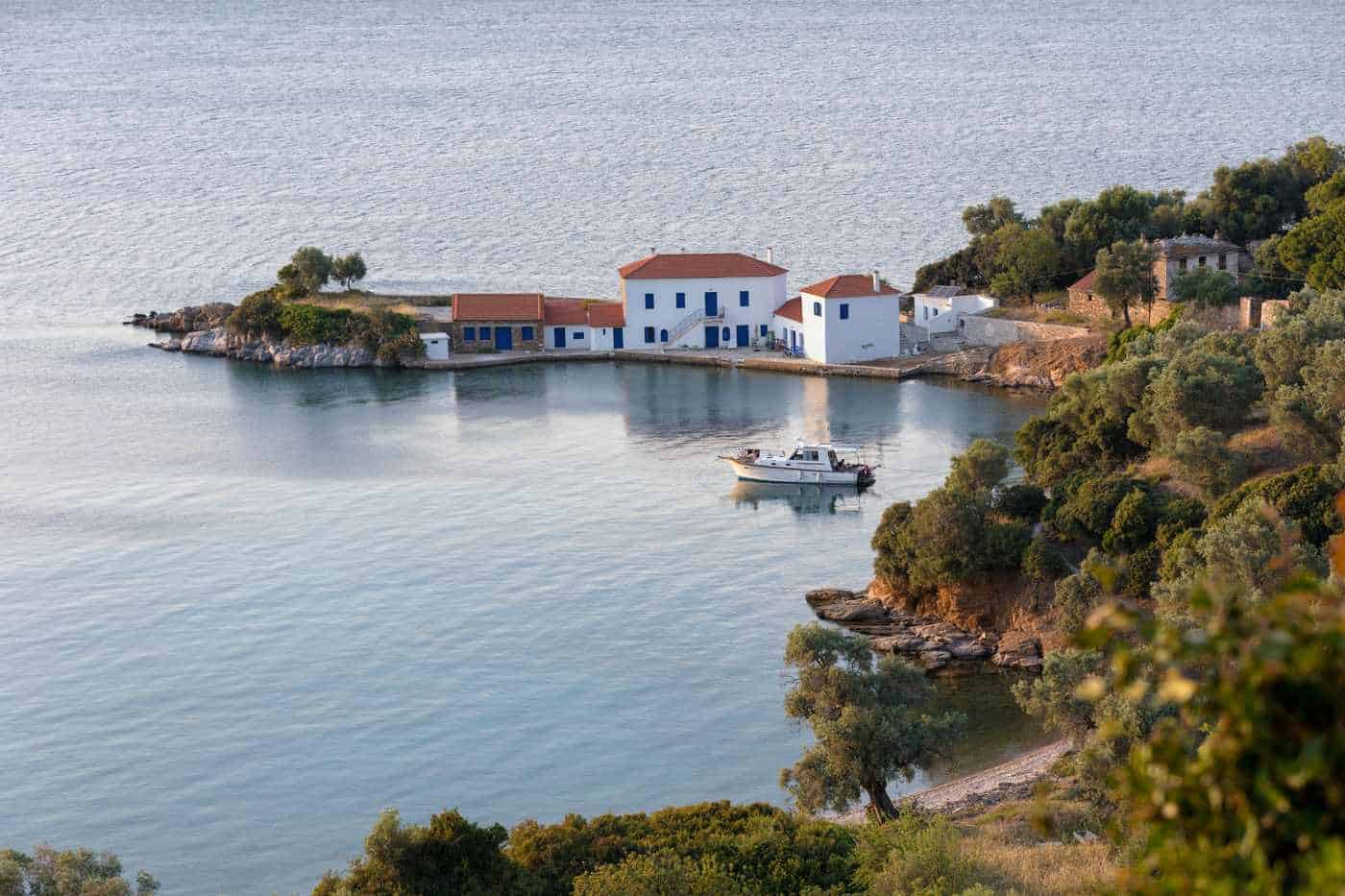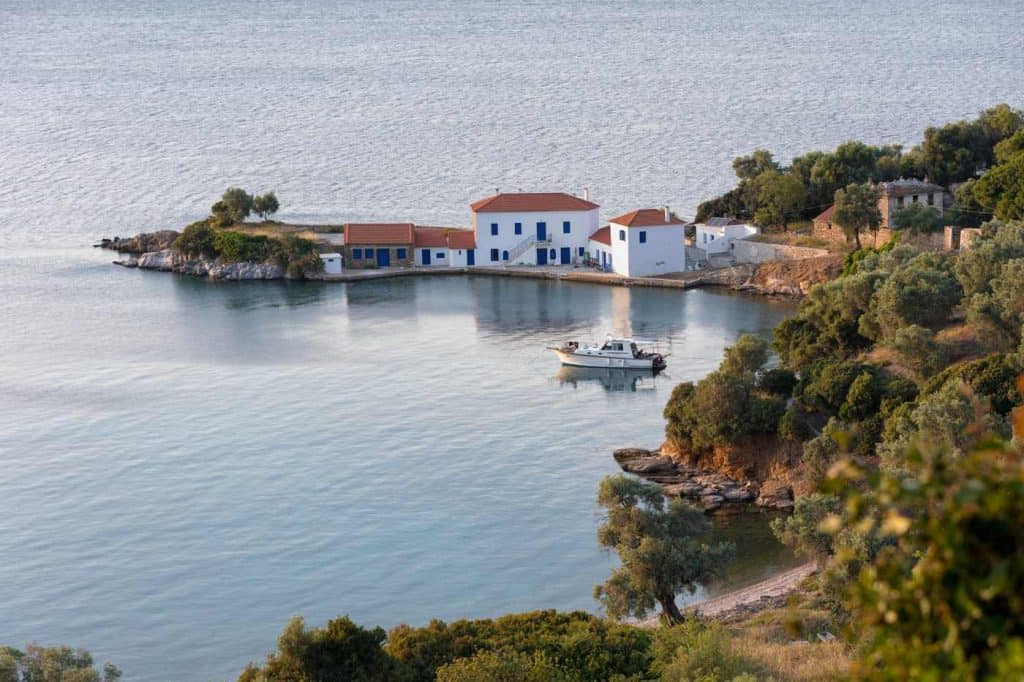 Southern Pelion is a world of its own. Located south of Pelion's central massive, it is a Tuscany-like ridge of hills skirted by olive groves, pines, and vineyards, sloping down to calm bays on the Pagasetic Gulf and fabulous sandy beaches on the Aegean Sea side.
During your stay in this part of Pelion Greece, do not miss the following:
Argalasti, the financial and cultural center of the south Pelion peninsula. Very often, especially during the summer months, there is live music at the central square.
The seaside villages of Chorto and Milina. They are surrounded by green hills and preferred by families for their holidays due to their shallow waters, dining options, and water sports facilities.
The traditional village of Lafkos. Lafkos is perfect for calm walks around its cobbled streets with blossoming courtyards. At the main square, a must-see is the traditional coffee shop of Forlidas, the oldest one in Greece since it has been in continuous operation since 1785.
The scenic drive to the southernmost tip of the Pelion peninsula. Starting from Milina, drive south all the way to Trikeri town and its seaport, Agia Kyriaki, which is famous for its fish tavernas serving delicious seafood. The whole route is filled with olive groves and fruit orchards that reach down to secluded bays with small pebbles and calm waters. Shortly after Marathias, stop on the road above the breathtaking Tzasteni cove to capture photos of one of the most picturesque sites you have ever seen.
The otherworldly experience of Trikeri island. Right at the opening of the Pagasetic Gulf, there is a small island of just 86 people where cars are not allowed. To get there, you must take a boat taxi from the opposite coast of Alogoporos. The Monastery of Evaggelistria, dedicated to the Virgin Mary, towers over Trikeri island. If you want to spend a few days living a mystic experience of authentic touch with nature, you can book a stay at one of the monastic cells open for visitors. Prices are meager, starting at around €10 per night.
Northern Pelion Greece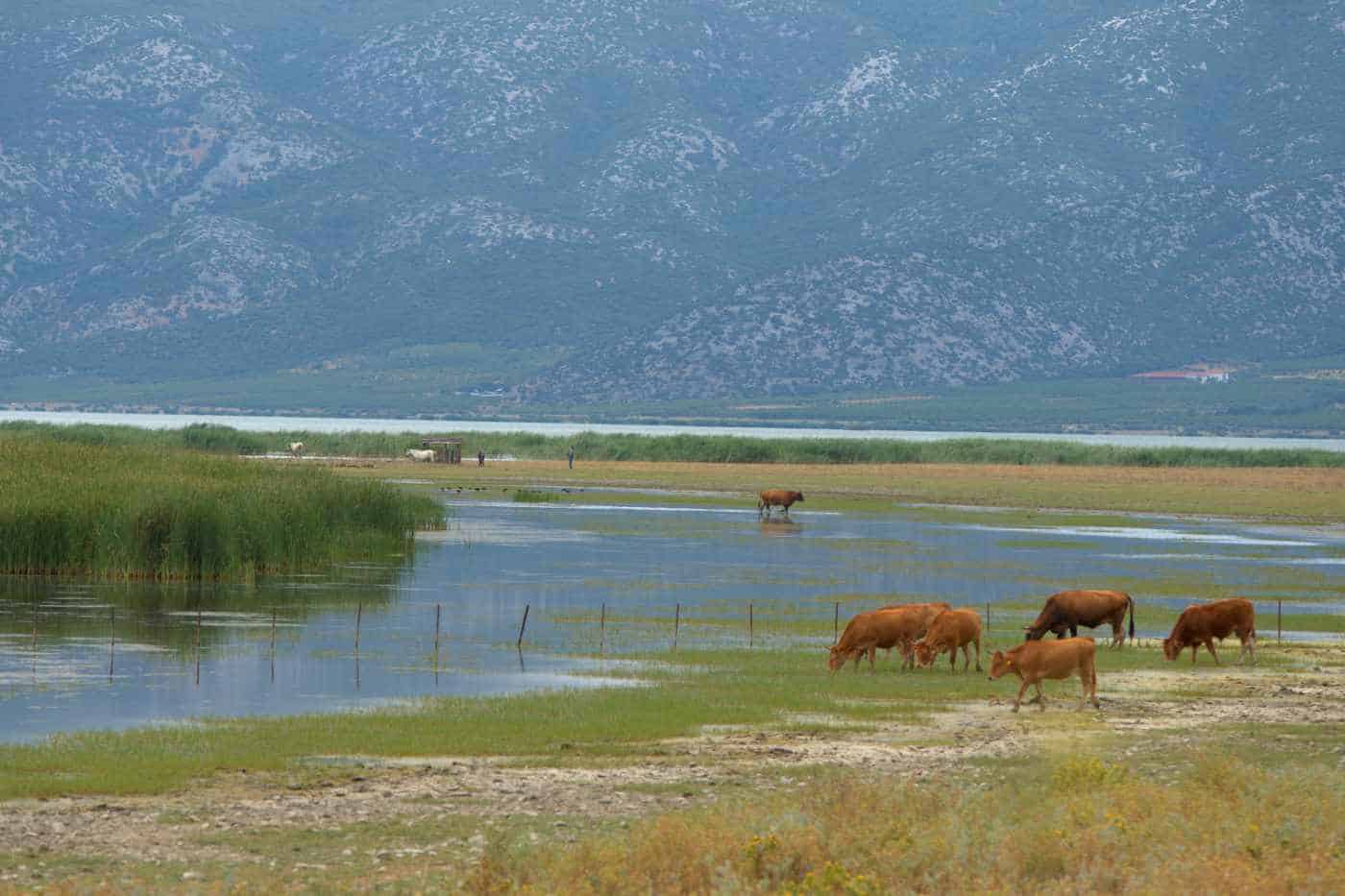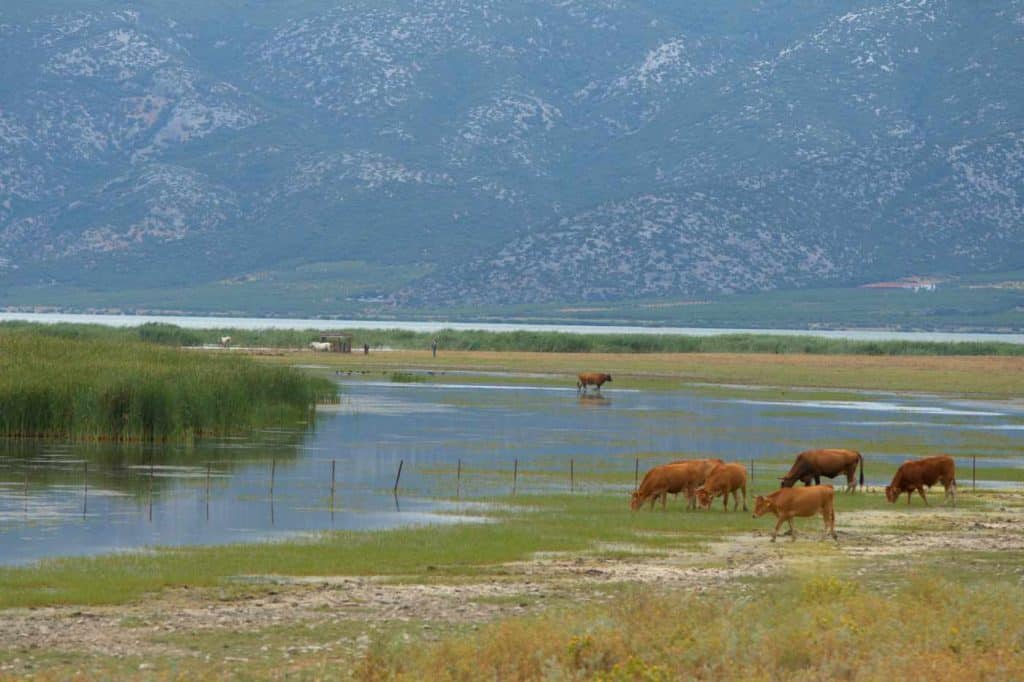 Northern Pelion is the last frontier of the Pelion peninsula. It is a primarily uninhabited land with lush forests and rugged seaside cliffs.
Northern Pelion is not for the faint-hearted. It is isolated and remote, and access is not easy. Nevertheless, the daring will have the chance to see some of Pelion Greece's best-kept secrets.
One of the area's landmarks is Keramidi, a traditional preserved settlement. Keramidi is filled with beautiful stone houses, and anywhere you stand in the village, you will get amazing views over the Aegean. Downhill, at a distance of 5km, there is Kamari, one of the beautiful beaches of Pelion Greece.
For wildlife observers, the reborn Lake Karla on the lowlands of Northern Pelion is not to be missed. The lake was dried out in 1962 to secure more farmlands, but people soon realized this had a tremendous impact on the area's ecosystem. So, a "rebirth" project started in 2010, and now the lake is one of the country's most significant wetlands, hosting many species of birds and fish.
The amazing beach life of Pelion Greece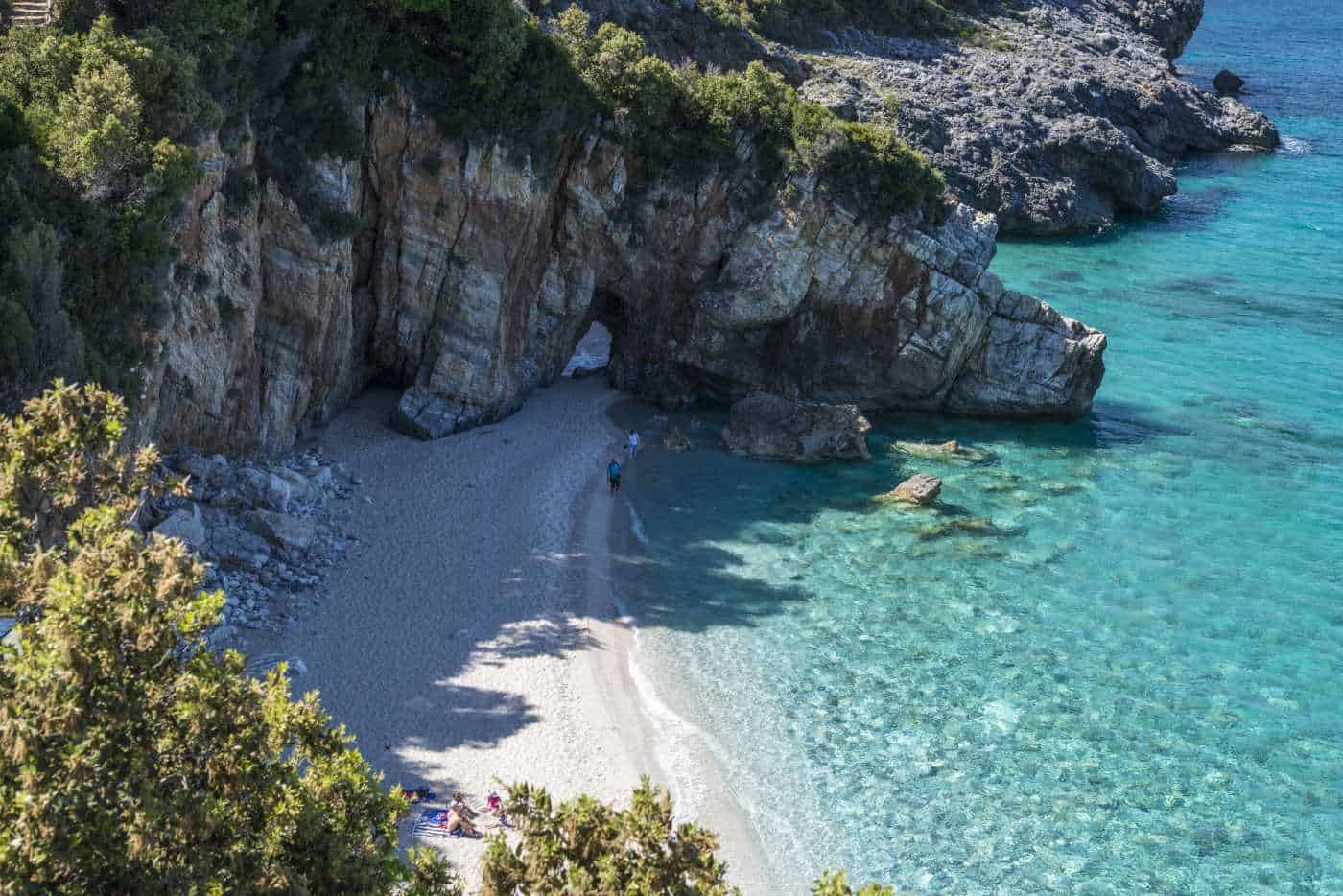 When temperatures get high, beach life gets alive and kicking at the graphic coastline of Pelion. The peninsula is famous for some of the country's most gorgeous, crystal-clear water beaches. There is something for everyone, from long sandy stretches to pebbled beaches, secluded coves, and sea caves.
The east coast on the Aegean Sea features pristine beaches with deep waters and lush towering cliffs on the backdrop. The west side, washed by the Pagasetic Gulf, is way more serene, with shallow waters and picturesque calm bays surrounded by overarching olive groves. Find the right one for you and bask in exhilarating sunbathing and all kinds of water sports, such as sea kayaking, windsurfing, scuba diving, sailing, and more.
The list could go on forever, but here are some of the stunning beaches of the Pelion peninsula worth visiting:
On the Pagasetic Gulf coast
Kala Nera. Kala Nera is a seaside resort near Volos that fills up with visitors during summer. Its shallow waters are perfect for families.
Koropi. Similar in style but much less frequented, Koropi is a calm beach of thick sand. Its central part is organized with umbrellas and sunbeds. In Koropi, you can dine at one of the best beachside restaurants of the Pelion peninsula, Kadi.
Afissos. Afissos is a picturesque seaside village with narrow streets and traditional houses, reminiscent of a Greek island. There are two sandy beaches on both ends of the settlement – Kallifteri and Abovos – where you can enjoy refreshing cocktails or delicious dishes by the water, from something as simple as a tasty Greek salad to seafood pasta.
Kalamos. Kalamos is a romantic seaside settlement a few km east of Argalasti, where you get the impression that time stands still. The serenity the long pebbly beach of Kalamos exhumes has worked its magic even on celebrities; Roger Waters of Pink Floyd has bought a house here.
On the Aegean Sea coast
Mylopotamos. It is one of the most iconic beaches of the Pelion peninsula. Mylopotamos beach consists of two shores, united by a natural rocky arch. It has small pebbles and turquoise water.
Fakistra. It is an unspoiled beach of a rare natural beauty that keeps the big crowds away due to its difficult access. Overarching cliffs surround this dreamy stretch of soft sand and small pebbles. To get to Fakistra, you must walk down a steep pathway.
Agios Ioannis. Agios Ioannis is a seaside town, a once fishing village turned into a busy resort. The area we call Agios Ioannis includes three closely located beaches: Plaka, the namesake Agios Ioannis right in front of the settlement, and Papa Nero. All of them are some of the best in Pelion Greece.
Damouchari. The settlement of Damouchari consists of two adjacent fishing bays full of charm and international fame, as parts of the Mamma Mia movie were shot here. Damouchari beach is on the eastern end of the settlement. It is pebbly and rocky, with crystal clear waters.
Potistika. Located on the east coast of Southern Pelion, across the Sporades islands, Potistika beach is a long stretch of soft sand and azure waters. Tourism infrastructure here is limited to the bare minimum, which adds to the overall serenity of the beach
Pelion Greece: a paradise for outdoor activities enthusiasts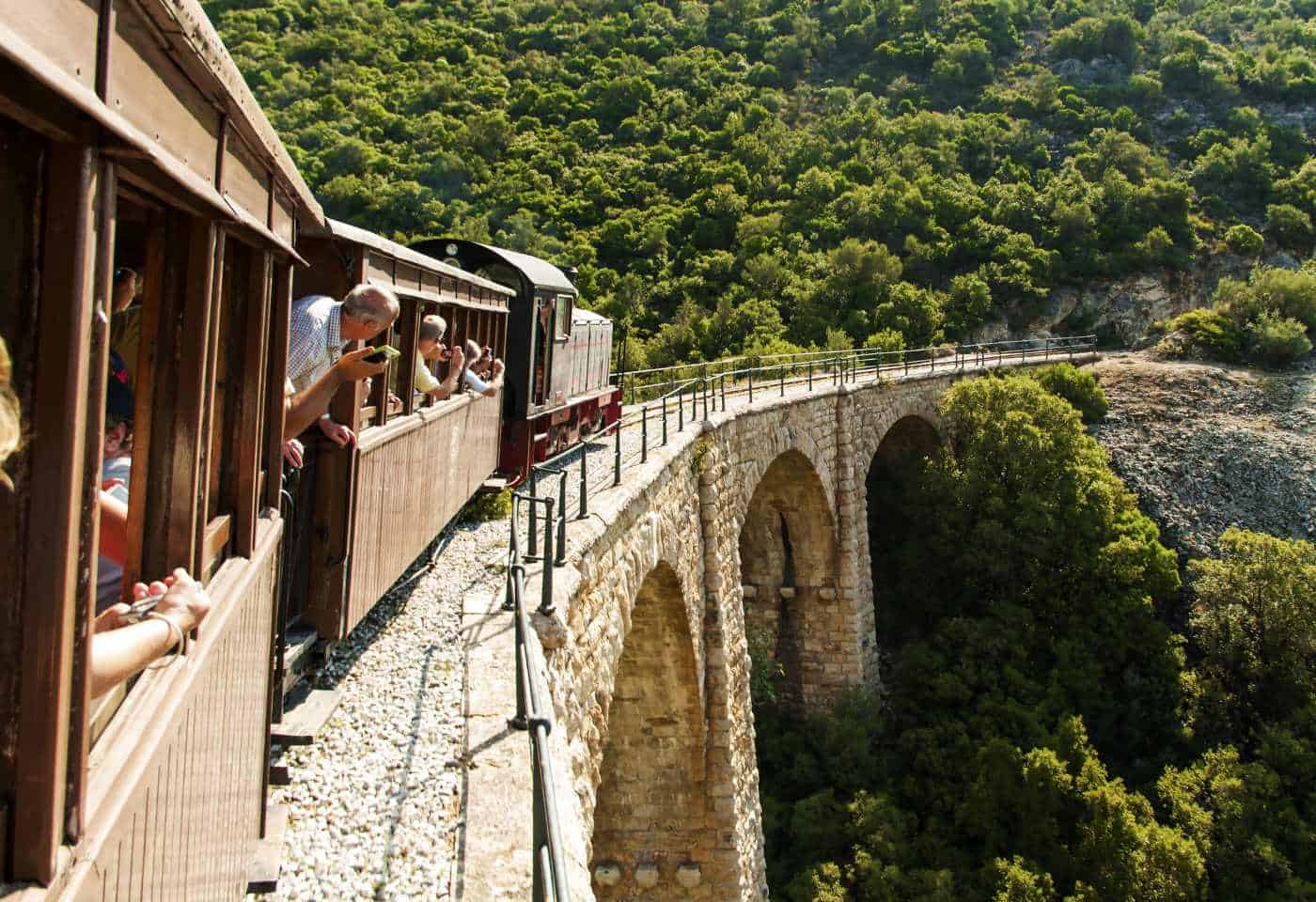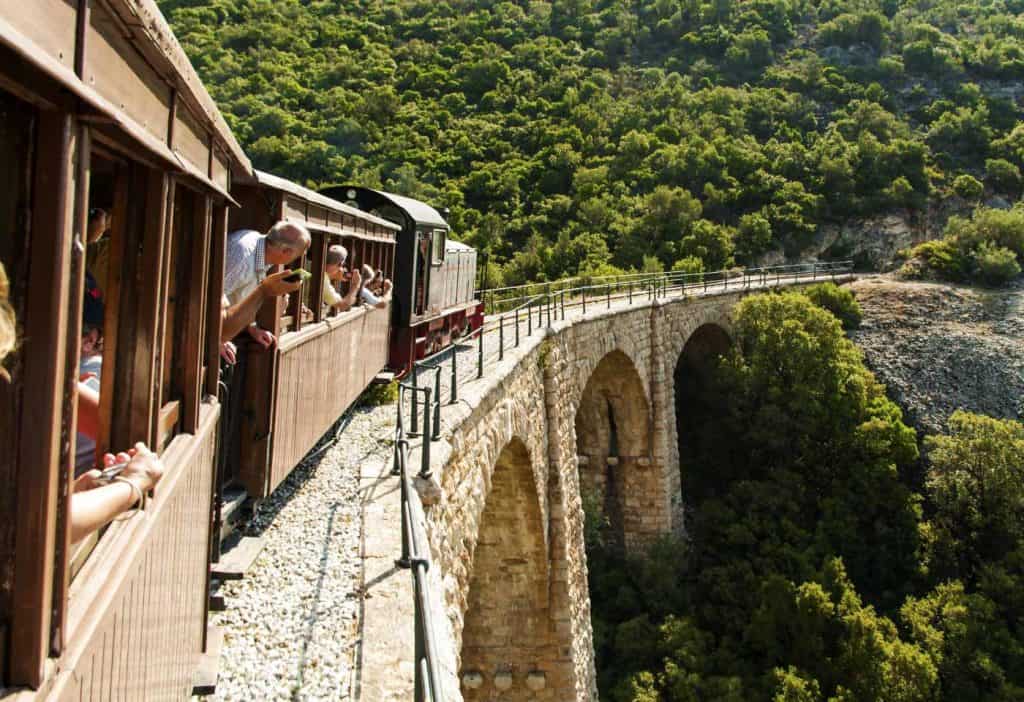 The Pelion peninsula is a wonder of nature. Harmonically combining mountain and sea, it is a playground of endless possibilities for people who enjoy outdoor activities amidst blissful sceneries and breathtaking vistas.
Hiking
Hiking is one of the most cherished outdoor activities for visitors and locals. Pelion is a hiker's haven; with abundant hiking trails crossing lush forest areas, water streams, and well-preserved stone bridges, there is something for all levels.
One of the most famous trails is the Centaurs' Path. It starts outside the village of Portaria and ends on the north side of Makrinitsa, overlooking the city of Volos. There are good marks along the 1400m way, which is mildly upward.
The more adventurous hikers could follow the trail that starts in Agia Paraskevi (Tsagarada) and goes all the way to Damouchari through Fakistra. It is 7km long.
Winter sports
Mount Pelion is a four-season destination. So, fans of winter sports could not possibly be disappointed. Shortly past the village of Chania, the Agriolefkes ski resort welcomes skiing and snowboard aficionados. With five runs, two chairlifts, and two drag lifts, it offers stunning views over the Aegean Sea and the Pagasetic Gulf as it sits at the mountain's highest point.
Wine and olive oil routes
Wine and olive oil are two of the essential products cultivated across the Pelion peninsula. They are an important element of local identity, so many family-owned production facilities open doors to visitors who wish to get acquainted with their products and processes.
The Patistis Family is a case of local producers near Argalasti who showcase their liquid wealth to travelers. You can book a visit, tour their vineyards and olive groves, and taste their exceptional products.
Other activities
Last but certainly not least, Pelion is also a fertile terrain for other exciting outdoor activities, such as mountain biking, horseback riding, canyoning, and rappelling. We must not forget to mention the fantastic guided sea kayaking tours that start on the beach of Agios Ioannis or Chorefto and visit the stunning sea caves (the Caves of Thetis) in Veneto.
A Culture Galore in Pelion Greece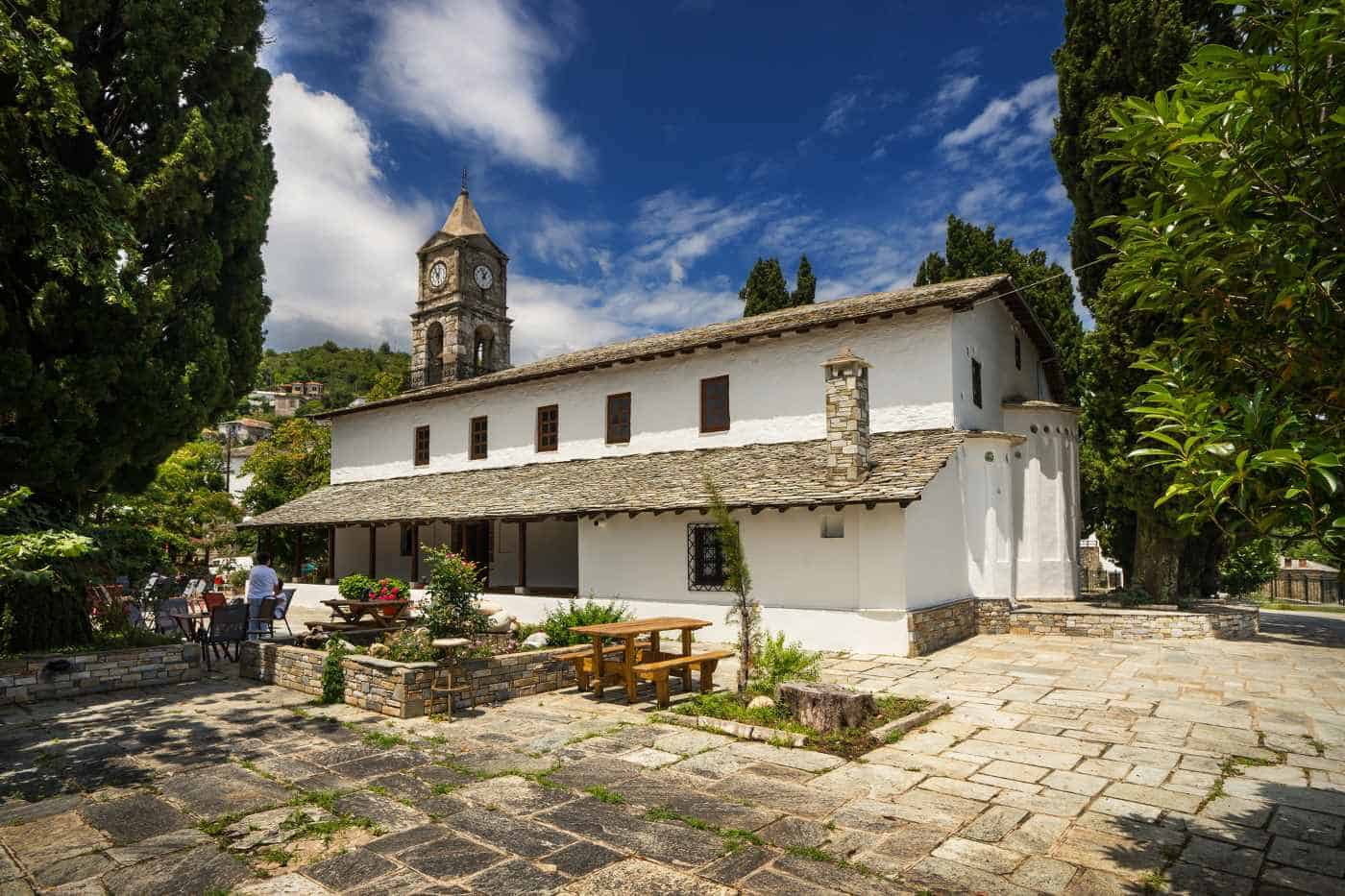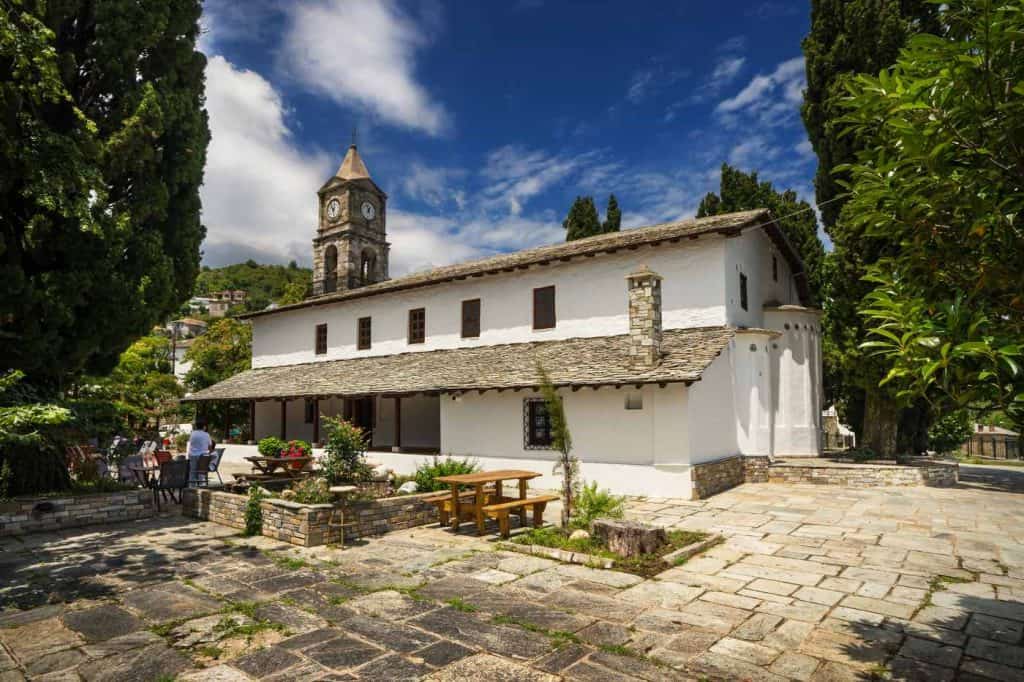 Besides natural beauty, Pelion is a place with a rich cultural heritage. Blending history with myths, it boasts traditions preserved for hundreds of years.
Local architecture
One of the features the visitor's eyes meet upon the first encounter is the distinctive local architecture. With this kind of traditional construction dating back to the 17th century, houses in Pelion are stone-built, with wood-carved doors, local slates on the roof, and small, symmetrical wooden windows or open/closed supported balconies.
Many of these houses and mansions have been restored and now operate as guesthouses, combining the historic elements with modern amenities and luxury details. Staying in one of these cozy accommodations is a once-in-a-lifetime experience every traveler needs to experience in the area.
Folk art and local crafts
Many talented artists and craftspersons fell in love with Mount Pelion and set up shop here, joining the already admirable inventory of local creators. You will admire various art forms, from painting and sculpture to pottery and textiles. Usually, their galleries and studios are open to visitors. You can go by and admire their work or even arrange a workshop class with them.
Religious and cultural festivities
The many events occurring all year round are an additional asset for the culture-conscious traveler.
The religious festivities organized in villages on the day of their church's patron saint are a must-see. Some notable ones: Agia Marina (Kissos) on July 17th, Agia Paraskevi (Lafkos) on July 25th, and the celebration on Trikeri island in honor of the Virgin Mary's religious icon on September 9th.
The culinary richness of Pelion Greece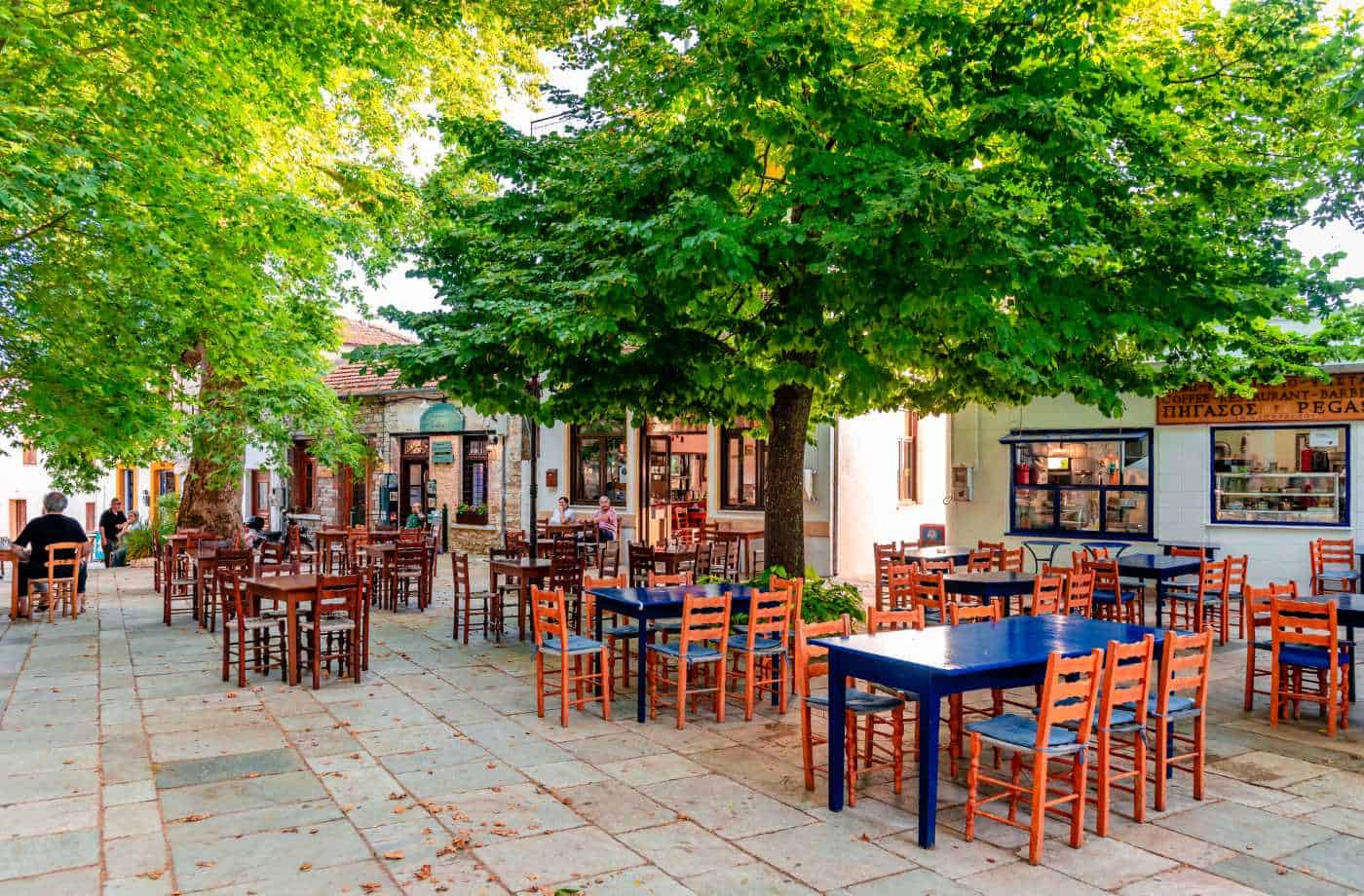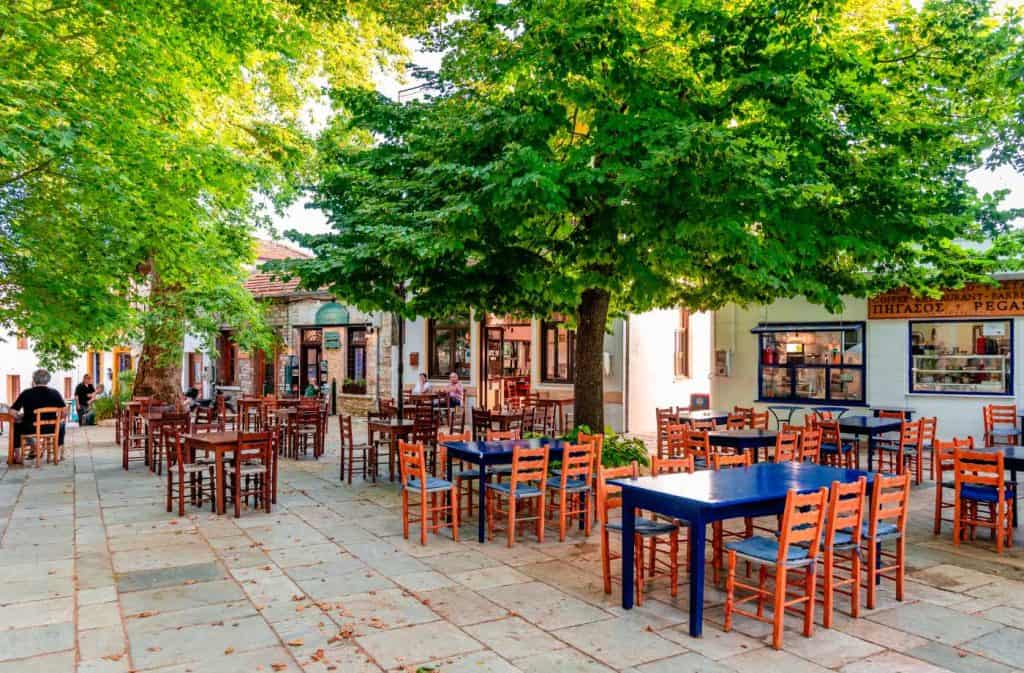 The Mountain of Centaurs has its own famous culinary scene. Pelion has formed a local cuisine with signature dishes using fresh produce and locally-sourced ingredients according to seasonal availability. Local hotels and guesthouses share the home-grown mentality and serve breakfast based on fruits and vegetables harvested on the spot from their garden.
Some of the dishes Pelion is known for are:
Spetzofai, a sausage stew with peppers and tomatoes.
Boubari, a sausage treat and one of the primary ambassadors of Pelion's gastronomy.
Beef with quince and chestnuts.
Greens pie, made of herbs that are available in every season.
Rooster with hylopites (a local pasta) cooked in tomato sauce.
Sautéed greens with over-easy eggs.
Lamb with plums.
Fresh seafood, cooked in various ways.
Delicacies are to be enjoyed in every village you go to. Unpretentious, friendly restaurant owners will give you a warm welcome and genuine hospitality that will stay with you forever. They might even tempt you to join the "tsipouro ritual", a gastronomic particularity that the neighboring city of Volos has become known for. Tsipouro is a clear and strong spirit made of grape pomaces. It is served alongside meze (small food dishes) in Pelion and the entire Magnesia area. The surprise factor here is that the meze is never announced in advance or ordered. Just claim your tsipouro and see what kind of food comes your way next!
Ready for some wanderlust? Select our travel concierge service and get the best and most organized experience of your life, organized by locals.